In this difficult period, job hunters have to ramp up to stand out and get employers' attention. Here is some advice on how to revamp your resume.
On an economic point of view, return to growth is only expected in 2021, in Canada and in Quebec. Until then, companies still watch the economy's and the pandemic's evolutions with a worried eye, all while new sanitary measures complicate their operations and slow businesses down.
In such a case, how can a hunter stand out in their job search?
« Standard job searching practices are still very much in place, Alexandra Bourassa, speaker on social autonomy at Montreal's CODEM-CJE, explains. Yet, hunters need to improve and adjust their techniques to current times and to rapid changes of the labour market. »
The counsellor offers to tackle a first project : the resume.
In our current circonstances, job hunters may find advantages in using some tricks to stand out.
« In 2020, a classic black and white resume with categories that follow each other goes directly in a manager's wastepaper basket. You need to separate yourself from the crowd, to dare to be different. I suggest a moder or « trendy » resume : a touch of colour, a pinch of originality and a good dose of authenticity, here is what is going to make a difference between you and another candidate at a resume reading for an open position. »
Only 8 seconds are spent on a candidate's resume, Alexandra Bourassa recalls.
« A couple of blinks and your turn is over. That is why you need to put the key information at the very top of your resume : your professional goals, your technical abilities, your achievements and your contact information. »
« We don't want to know… we want to see! »
A good attention-grabbing strategy is to use graphics to illustrate your skills and your achievements.
This is one of ResumeLab's latest poll's fundings, conducted last summer. With it, the teams tried to quantify what impact certain resume composition strategies had on the number of offers received by candidates.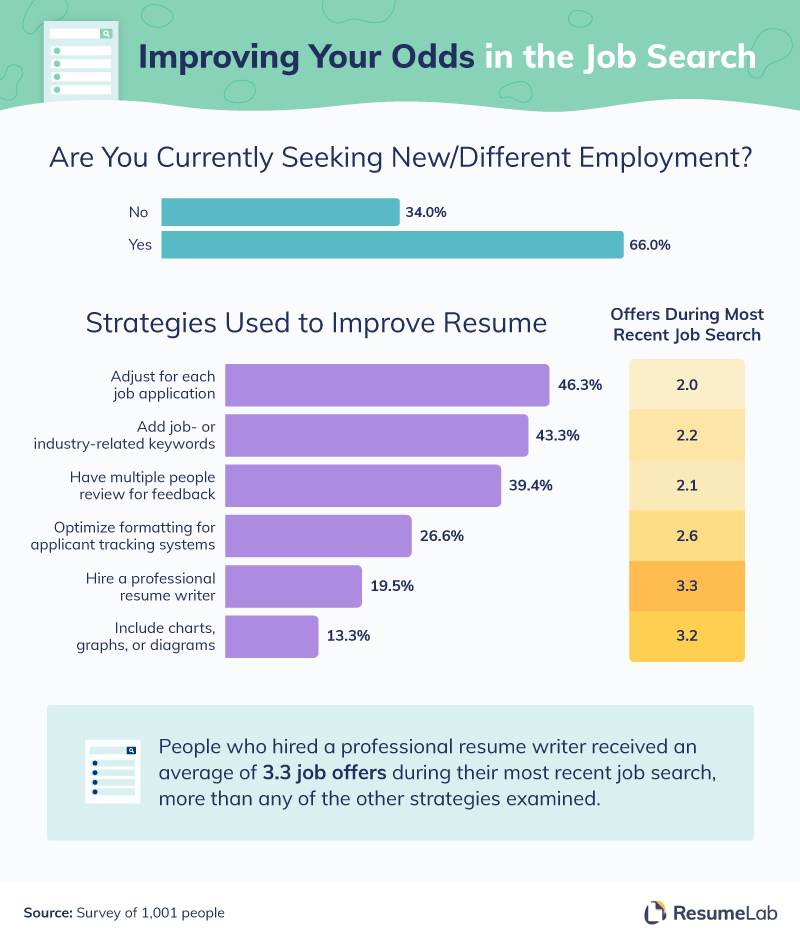 According to the poll's results, techniques that are the most commonly used are also the ones with the less impact on the candidacy process.
As proof, the 13.3% of job hunters who took the time to include graphics and infographics to their resumes had, on average, 3,2 job offers. Whereas the ones that « only » personalised the resume according to the company and the industry respectively got 2 and 2,2 offers, on average.
These results are not dissimilar to comedian Yvon Deschamps's flavourful constat on the way we consume information. As humans – and as recruiters, in this particular case – « we don't want to know, we want to see! »
Photo credits : Joao Ferrao / Unsplash